Welcome to Fremont County School District #21!
Fremont County School District #21 is located in Fort Washakie, Wyoming, on the 3,374,272-acre Wind River Indian Reservation. In our three schools, we educate approximately 500 pre-kindergarten through twelfth-grade students.
A Message from Our Superintendent
December 4, 2023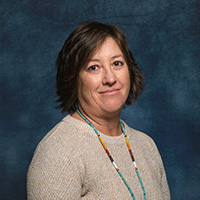 Dear Parent/Guardians,
The winter season has arrived. The snow brings colder temperatures, so please remind your student to wear a coat and dress appropriately for the weather. There are many upcoming activities for students and families to participate in before the holiday break. Please check our website for information regarding upcoming events.
Reminders:
The Wind River InterTribal Council has rescinded WRITC Resolution 2020-11357 and all other eleven (11) amendments and resolutions regarding the COVID-19 Public Health Order(s). At this time, our district will abide by WRITC Resolution No. 2023-11730. Masks are optional and COVID-19 testing is available in the nurse's office. However, if there is a surge in the number of positive COVID cases after the upcoming holiday season, we may require that masks be worn for a short period of time to ensure that the spread of COVID is reduced.
The district continues to offer a brand new iPad to each student that shows proof of COVID-19 vaccination. This is a token of appreciation for students who have received the COVID-19 vaccination as a measure to protect themselves, their families, and our school community. Students that have already received an iPad as the vaccination incentive will be eligible to receive an Apple pencil if they show proof for receiving the latest COVID booster vaccination. Please provide a copy of your students' vaccination record card to the school nurse. Students will have until the end of May to receive the vaccination incentive.
Last month, I participated in the meeting for the Select Committee on Tribal Relations regarding education issues facing our reservation schools. Here is a link to an article summarizing the discussion before the Select Committee. Please do not hesitate to contact your building administrator if you have any questions.
Our district was gifted a beautiful piece of art from another Wyoming school district. Clark Coberly, superintendent at Weston 7, graciously donated the artwork to us following the Wyoming School Boards Association fall conference. The artwork is an original piece from Sam Glenn and is an oil painting on canvas of an eagle. It is truly spectacular! Students in Mr. Casey's industrial arts class will construct a wooden frame for the canvas. We will then find a place within one of the buildings to showcase this artwork. Stay tuned for the unveiling of the eagle.
Sincerely,
Debra R. Smith
Debra R. Smith
Superintendent