Welcome to Fremont County School District #21!
Fremont County School District #21 is located in Fort Washakie, Wyoming, on the 3,374,272-acre Wind River Indian Reservation. In our three schools, we educate approximately 500 pre-kindergarten through twelfth-grade students.
A Message from Our Superintendent
November 29, 2022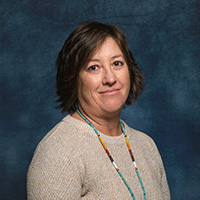 Dear Parents/Guardians:
The winter season has finally arrived. The snow brings colder temperatures, so please remind your student to wear a coat and dress appropriately for the weather. Indian Health Services has generously donated several coats to the district gathered from a recent coat drive. If your student is in need of a gently worn coat, please contact the school office for more information.
The Wind River InterTribal Council met in early November to discuss COVID-19 updates. As of November 14, 2022, WRITC Resolution No. 2022-111662 amends the reservation mask requirements. The FCSD #21 Board of Trustees met and approved to adhere to the amended health order. The wearing of masks is now optional within the school buildings. The district will continue to follow the COVID-19 health and safety protocols regarding social distancing, daily symptom monitor (including temperature checks), frequent handwashing, and optional mask if an individual chooses to wear it. The district will continue to require masks be worn on buses due to the limited space available. The school nurses will continue to track district COVID cases and contact tracing. All staff and student-athletes will test weekly. The CDC guidelines for quarantine and isolation will be implemented. For more information, please contact our school nurse.
I hope everyone had a restful and enjoyable Thanksgiving holiday. Our winter break is just around the corner. Please continue to communicate with the school if your student is experiencing any difficulty. Student engagement and participation is a top priority. Looking forward to a beautiful, snowy December.
Sincerely,
Debra R. Smith
Debra R. Smith
Superintendent